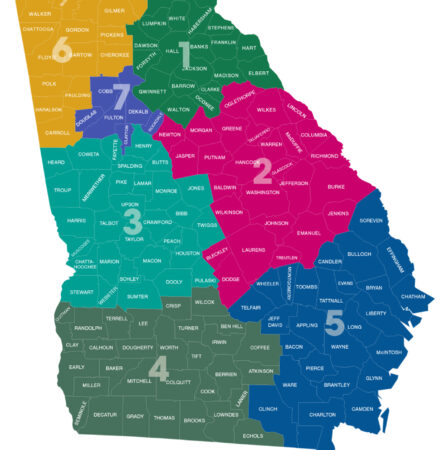 Restore Georgia is made up of 7 regions around the state.  Each region has a leader that is responsible for coordinating local activities and recruiting volunteers.
Regional leaders will:
Partner with other groups locally; ACLU, NAACP, NIA, Salvation Army, Georgia Justice Project, United Way, the faith community, there are many ways to get our message out including participating in their events with a table & brochures
Develop its own program and actions in recruiting new Restore Georgia members and coordinating all activities and functions within that Region
Regions in need of a leader:
Region 4
Region 5
If you are interested in becoming a leader for your region, please fill out an application by clicking here and someone will follow up with you.
Restore Georgia is seeking additional Board Directors (**This is a non-compensated leadership position.*)
Responsibilities of this position include, but are not limited to:
· Attend meetings virtually on the 2nd Monday at 7:00pm
· Governing the organization by establishing policies and procedures;
· Selecting, appointing, supporting and reviewing the performance of the President/CEO;
· Making financial donations to the organization;
· Recruiting new board members;
· Securing financial donations to the organization;
· Ensuring the availability of adequate financial resources;
· Overseeing all revenues and expenses;
· Strategic planning;
· Approve annual budgets;
Restore Georgia is seeking a Communications Manager. This is a great opportunity for a college student looking for an internship.
Responsibilities of this position include:
· Develop impactful social media strategies, including the design of needed assets;
· Design advocacy and overall promotional materials;
· Manage our social media platforms, including writing and editing posts, creating graphics, maintaining the social media calendar, engaging social media followers and influencers, and developing reports on social media metrics and analytics;
· Optimize video, audio, and photo content for social platforms including website, YouTube, Facebook, Twitter, and Instagram;
· Research online communications tools, social media trends, and implement best practices;
· Ensure frequent and timely newsletters and emails are sent out to constituents.
· Edit and proofread Restore Georgia's written materials, press releases and other media materials;
· Other duties as assigned.
Please click here to apply for the Communications Manager position.